John Cameron
Toronto Market Stats - April 2020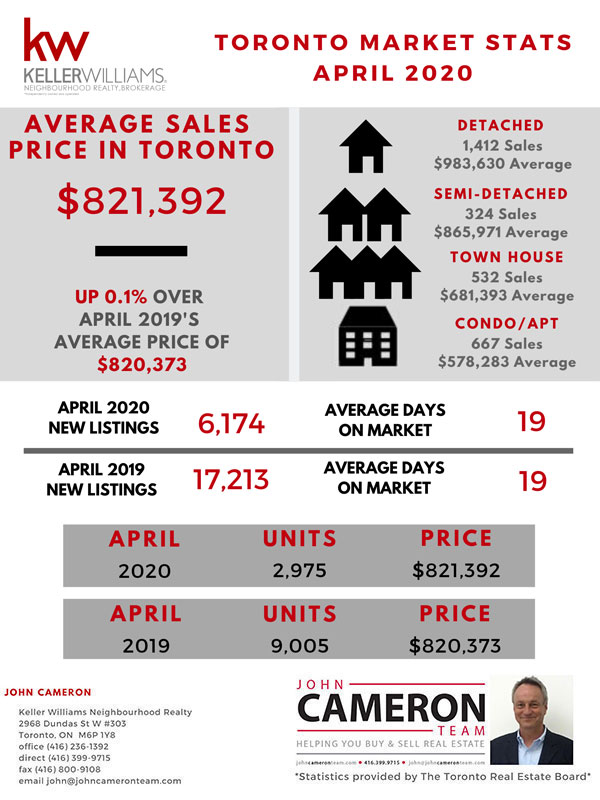 Toronto Regional Real Estate Board President Michael Collins announced that Greater Toronto Area REALTORS® reported 8,012 home sales through TRREB's MLS® System in March 2020 – up by 12.3 per cent compared to 7,132 sales reported in March 2019.
However, despite a strong increase in sales for March 2020 as a whole, there was a clear break in market activity between the pre-COVIDHome Sales and Listings
• Greater Toronto Area REALTORS® reported 2,975 residential transactions through TRREB's MLS® System. This result was down by 67 per cent compared to April 2019. Weekday sales remained within a relatively steady range during the month, averaging 130 per day.
• New listings amounted to 6,174 in April 2020 – down on a year-over-year basis by a similar rate compared to sales (-64.1 per cent).
"The necessary social distancing and economic impacts associated with COVID-19 clearly impacted home sales and listings throughout April 2020. However, REALTORS® have been able to facilitate some transactions on behalf of buyers and sellers through the use of innovative techniques including virtual open houses. TRREB has also provided a live stream virtual open house option on Member listings featured on our public websites, and I would expect the use of these innovative techniques to increase as some level of social distancing remains in place for the foreseeable future," said Mr. Collins.
"TRREB Members should continue to follow directives and guidance being given by the government and public health agencies. TRREB's professional development staff are continuously working to educate our Members via virtual webinars on using technology in innovative ways to conduct business virtually, including video, virtual tours and the use of electronic forms wherever possible," said TRREB CEO John DiMichele.
Want to find out more?
If you would like to discuss the market, please do not hesitate to reach out to me at
john@johncameronteam.com
.
Take care of yourself and your loved ones. Stay safe and stay healthy.
---
What is RED Day?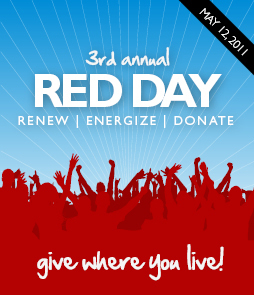 RED (Renew, Energize and Donate) Day is a Keller Williams Realty service initiative dedicated to improving our local communities. All Keller Williams Realty associates in Canada were asked to donate their time to renewing and energizing aspects of their local communities. Because of her constant commitment to the culture of our company, this day has been dedicated in honor of our Vice Chairman, Mo Anderson.
Want to find out more?
If you would like further information on how you can help in your area or have any other questions please email
john@johncameronteam.com
.
---
OutFront Magazine
OutFront is Keller Williams Realty's semi-monthly publication, focused on the Keller Williams advantage, success strategies among our associates throughout North America, and leading-edge strategies to help you to seize the shift in the real estate market to grow your market share. Each issue is distributed to all of our associates in theUnited States and Canada.

Browse the current issue of OutFrontmagazine!


Additional printed copies of the magazine are now available in 10-packs!
Purchase copies of OutFront Magazine here.