John Cameron
Toronto Market Stats - August 2020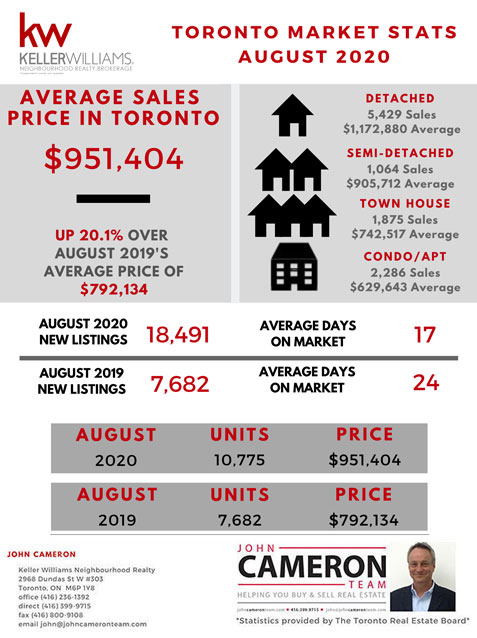 Toronto Regional Real Estate Board (TRREB) President Lisa Patel announced that the strong rebound in Greater Toronto Area (GTA) home sales continued with a record result for the month of August. GTA REALTORS® reported 10,775 residential sales through TRREB's MLS® System in August 2020 - up by 40.3 per cent compared to August 2019. Sales were up on a year-over-year basis for all major home types, both in the City of Toronto and surrounding GTA regions. It should be noted that the low-rise market segments, including detached and semi-detached houses and townhouses, were the drivers of sales growth. Condominium apartment sales were up on an annual basis for the second straight month but to a lesser degree.
"Increased demand for ownership housing has been based on improving economic conditions, in terms of monthly GDP growth and job creation, and the continuation of very low borrowing costs. In addition, fewer households have chosen to go on vacation as a result of COVID-19 and instead have remained in the GTA and been active in the housing market, satisfying pent-up demand from the spring," said Ms. Patel.
Both the number of new listings entered into TRREB's MLS® System during the month and the number of active listings at the end of the August 2020 were up on a year-over-year basis. While new listings were up strongly for all home types, growth in new condominium apartment listings far outstripped growth in the other market segments.
"Generally speaking, market conditions remained very tight in the GTA resale market in August. Competition between buyers was especially strong for low-rise home types, leading to robust annual rates of price growth. However, with growth in condominium apartment listings well-outstripping condo sales growth, condo market conditions were comparatively more balanced, which was reflected in a slower pace of price growth in that segment," said Jason Mercer, TRREB's Chief Market Analyst.
Want to find out more?
If you would like to discuss the market, please do not hesitate to reach out to me at
john@johncameronteam.com
.
Take care of yourself and your loved ones. Stay safe and stay healthy.
---
What is RED Day?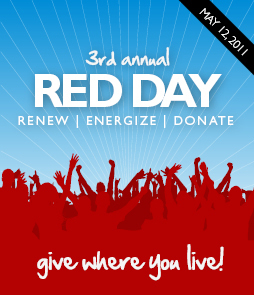 RED (Renew, Energize and Donate) Day is a Keller Williams Realty service initiative dedicated to improving our local communities. All Keller Williams Realty associates in Canada were asked to donate their time to renewing and energizing aspects of their local communities. Because of her constant commitment to the culture of our company, this day has been dedicated in honor of our Vice Chairman, Mo Anderson.
Want to find out more?
If you would like further information on how you can help in your area or have any other questions please email
john@johncameronteam.com
.
---
OutFront Magazine
OutFront is Keller Williams Realty's semi-monthly publication, focused on the Keller Williams advantage, success strategies among our associates throughout North America, and leading-edge strategies to help you to seize the shift in the real estate market to grow your market share. Each issue is distributed to all of our associates in theUnited States and Canada.

Browse the current issue of OutFrontmagazine!


Additional printed copies of the magazine are now available in 10-packs!
Purchase copies of OutFront Magazine here.